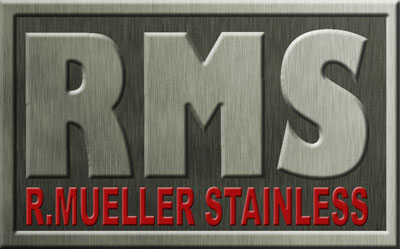 R. Mueller Stainless, a division of R. Mueller Service & Equipment Company, Inc. can provide you with the highest quality end products through the best materials available. Skilled dedicated professionals with years of experience can assist you with all your metal fabricating needs, from initial concept development through product production and job site delivery. You can rely on R. Mueller Stainless' precision workmanship for precision fabrication and welding.
R. Mueller Stainless is located adjacent to R. Mueller Service & Equipment Co., Inc. at 221 North 29th Avenue, Monroe, Wisconsin.
Call us for a quote today!
Expert Services
Many Years of Fabricating and Welding Experience
Sanitary TIG Welding
Emergency Service 24/7
Full Inventory of Stainless Steel
304 Sheet, Tube, Fittings and Bar Stock
Standard Pipe and Fittings
Concept Development
Press Brake Forming/Bending
Angle/Flat and Rod Shearing
Punching
Drilling and Countersinking
CIP Systems
Services Offered
Sales and service of equipment
for the dairy industry.
R. Mueller Stainless
Unmatched quality & craftsmanship of custom fabrication & welding.
Order Parts
Genuine Westfalia replacement parts, stainless steel fittings, pipe/tube and electronic components.